Sandy Store
801-571-7166
9417 South 680 East
Located in Union Square

Hours:
Monday-Saturday 10am - 8pm
Closed Sunday
Click on Map to View Larger Size, Below Map See Instructions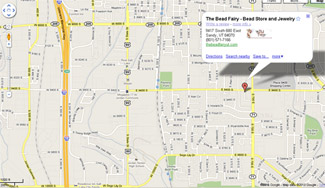 Directions from I-15
From I-15, Take the 90th South Exit and head East.
Continue up 90th South to 700 East.
Turn South on 700 East
Drive to 9400 South and turn West.
Take an immediate turn south into the Union Square Parking Lot.
The Bead Fairy is right next door to Papa Murphy's Pizza
9417 South 680 East, Sandy,Utah 84070.